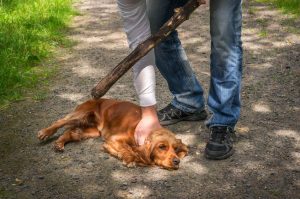 There are people who actively harm animals which is why there are laws in place to protect them. Animal cruelty is a serious offense in Colorado and can carry even up to 7 years in prison, plus fines. If your loved one has been arrested for animal cruelty, contact a bail bondsman as soon as possible to discuss your options for Colorado bail bonds. Securing Colorado bail bonds will ensure temporary release so you have time to understand how the legal process works during this time-sensitive period. Bail bonds are often considered a better option when posting bail.
How is animal cruelty defined in Colorado?
The Colorado Revised Statute 18-9-202 defines the cruelty of animals and its corresponding punishments. 
Animal cruelty is defined as the act of abusing, neglecting, or abandoning the animal regardless of whether the defendant was knowing, negligent, or reckless.
Congress has also passed the Federal PACT or the Preventing Animal Cruelty and Torture Act in 2019. This law prohibits the act of causing severe harm to domestic or wild animals through:
drowning

crushing

impalement

suffocating

and other horrendous methods
The law also forbids the creation and distribution of animal-crushing videos or photographs.
What are some examples of actions that could constitute animal cruelty?
Some of the actions that could be classified as animal cruelty in Colorado include, but not limited to:
Intentionally killing, injuring, maiming, or torturing an animal.

Abandoning an animal alone for several days without access to food and water.

Keeping an animal in a filthy environment.
What are the penalties for animal cruelty in Colorado?
A first-time offense for animal cruelty is considered a class 1 misdemeanor. It carries the following punishments:
6 to 18 months in county jail

$500 to $5000 fine

Required anger management program instead of jail time, at the discretion of the judge.
A second conviction of animal cruelty is already considered a class 6 felony. This means:
1 and a half years in prison (1-year mandatory parole)

$1000 to $100,000 fine

Court order to not own animals for 3-5 years

Anger management treatments
A first-time offense for aggravated animal cruelty is a class 6 felony. It carries the same offense as the 2nd conviction of animal cruelty.
A second conviction of aggravated animal cruelty is considered a class 5 felony. The penalties for this include:
1 to 3 years in prison (2-year mandatory parole)

$1000 to $100,000 fines

Anger management or other kinds of treatment program

Court order not to own animals for 3-5 years

Animal fighting for entertainment and financial gains is an offense under CRS 18-9-204. Moreover, those who encourage, organize, or sponsor animal fights can also be charged with aggravated animal cruelty which is a class 5 felony.
The violation of the PACT Act carries a 7-year sentence in federal prison including a fine.
Conclusion
Colorado has some of the strictest laws when it comes to animal cruelty. If you or someone you know has committed animal cruelty, it is important to turn to Colorado bail bonds. Find a trusted Colorado bail bonds provider so you can prepare for your defense outside of jail.