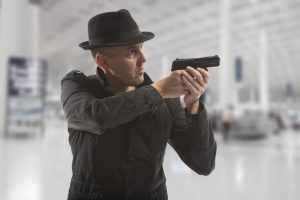 A bail bondsman is a person or agency that will provide the money necessary on behalf of a criminal offender for their temporary release which is secured by a collateral from the one who signs the bail agreement. The cosigner is usually a family member, relative, friend or even an acquaintance. This is to prevent the defendant from failing to appear on the court date. A bail bonds agent usually charges 10% to 15% fees depending on the bail amount but is somewhat worth it due to the intense paperwork and timeline they need to keep up to and considering that they also need to guarantee that the defendant will show up in court.
There are two kinds of bail bond agents – one is working in the professional bonding company and the other one is working for a surety company. It is important to know that professional bail bond agents need a license in the state they work in while the agents working for a surety company can work across all states. Needless to say, all bail bond agents receive proper training and need to obtain a licensing certificate in the state where he/she wants to practice. 
In Colorado, it is required to have a license as an insurance provider first and pass the bail bondsman exam and complete a pre-license training before becoming a licensed bondsman. In particular, there are a number of bail bonds in Jefferson County, Colorado whom you can trust. To apply to become a bail bondsman in Jefferson County, the applicant should be at least 18 years old and must be a resident in Colorado. If the applicant does not reside in Colorado, the business where the applicant works should be registered in Colorado. To ensure that you are dealing with a professional bail bondsman, always look for a licensing certificate or legal documents indicating that they are indeed licensed to practice in the state.
Since becoming a bail bondsman in Jefferson County involves working closely with criminal suspects, it is extremely crucial that there is a proper profiling and background check of the defendant to ensure safety and security. Though posting a bail may seem to be a simple concept, a bail bondsman needs to complete paperwork in an accurate and timely manner with regards to sensitive information about the defendant. The bail bond agent needs to also work in a fast manner to get their clients out of jail. 
The role of bail bond agents in the field of criminal justice is crucial since they help reduce overcrowding in jails and reduce the need for officers to chase fugitives on the run. Bail bondsman also helps people with unstable financial conditions to get back home and await their trial with their loved ones. Being a bail bondsman is somewhat tedious and risky but has advantages in terms of the flexible working hours and rewarding earning options. 
If you are looking for reputable, responsible, and expert bail bonds in Jefferson County Colorado, the search is over. Our team in Lucero's Bail Bonds are available for you 24/7 and we believe that your loved ones deserve to enjoy their freedom at home. For hassle-free and fast bonding needs, contact us now!