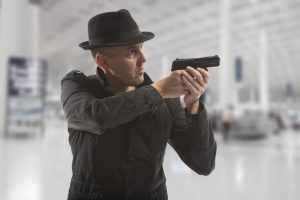 You probably think that bounty hunters are a big scary old dude with a face tattoo that comes and knocks at your door with a sinister smile on his face carrying a dangerous weapon. Well, you're probably watching too many action movies. Bounty hunters are actually private agents who are working for bail bonds agents and are authorized to arrest delinquents and fugitives for a commission or "bounty". In Colorado, bounty hunters are also known as "bail recovery agents" and are legally allowed in the state. 
Contrary to popular belief, bounty hunters and bail bondsmen are two different persons. A Douglas County bondsman employs the services of a bounty hunter to capture and return fugitives that have failed to show up on prescribed court dates. The responsibility of a bail bondsman is limited to providing the money necessary on behalf of a defendant to secure their temporary release from jail and making sure they show up on designated court dates. Check out bail bonds Douglas County for more information about bail bonds. 
Since the bail bondsman is responsible for paying back the court if the defendant doesn't show up at court, then the bondsman needs to seek reimbursement from the accused of the full amount of the bond. This is where the bounty hunter comes in. Since individuals who did not show up on court dates are considered fugitives, bounty hunters are responsible to capture them in any way possible and return them to authorities. 
Did you know that bounty hunters do not need any warrant of arrest to enter a fugitive's home? Bail bond agreements usually state that bail bond agents give them the approval to apprehend you in cases that you do not show up in court which includes breaking and entering your property if there is suspicion that you are inside. If you are from Colorado, there are Douglas County bondsmen who can help you with your bail bond inquiries and needs.
Being a bounty hunter in Colorado is somehow easier than it looks. You don't need to have a fancy degree or licensing certification to start working in the field. However, below are the minimum requirements to start a career as a bail recovery agent:
You must be 18 years of age or older

You must be a US citizen or legal immigrant

You have no criminal records

You can provide character references
To jumpstart your professional career as a bounty hunter, you need to at least gain training in the field. Thus, 16 hours of training about bail recovery is needed to enhance your skills and show future employers that you are knowledgeable in the field. If you are serious about becoming a skilled professional in this area, a two- or four-year degree in criminal justice would also be helpful to make it easier to obtain more clients and employers. Bounty hunters are paid a percentage of the original bail amount once the fugitive has been apprehended.
So why are bounty hunters important? It is in the best interest of the bail bonds agency to hire a bounty hunter to make sure that fugitives that did not show up on the court and on the run are properly captured and returned to authorities for proper conviction. 
If you are looking for bail bonds Douglas County in Castle Rock, CO, Lucero's Bail Bonds are available for you 24/7 to help you or your loved ones get out of jail fast. Contact us now!