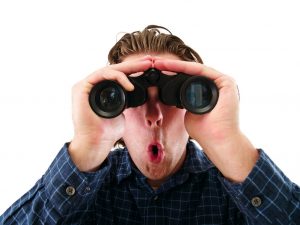 Peeping Tom Privacy Laws or the Invasion of Privacy 18-7-801 states that a person who knowingly observes or takes a photograph of another person's intimate parts, as defined in section 18-3-401(2), without that person's consent, in a situation where the person observed or photographed has a reasonable expectation of privacy, commits criminal invasion of privacy. This criminal offense is class 2 demeanor which has a minimum sentence of 3 months jail, $250 fine or both, and a maximum sentence of 12 months jail, $1,000 fine, or both. Even though the charges can be considered a misdemeanor, a subsequent arrest may result in the person ending in jail. If this happens, it means that the arrested individual will need to be bailed out which sometimes can be difficult for families with limited funds. You might need a bail bonds service. The bail is returned by the bail bond agency upon completion of the case but raising it can be difficult or impossible which requires the defendant to request a bail hearing.
When we talk of a "photograph" in this article, it includes a photograph, motion picture, videotape, live feed, print, negative, slide, or other mechanically, electronically, digitally, or chemically produced visual material. With the current state of technology we have, drones can sometimes be used for this criminal offense. Let's dig into the story of a Utah couple who got arrested for Peeping Tom drones.
In 2017 in Orem, Utah, police reported that they had tracked down the operator of drones sent by neighbors to spy on their home by a photo of the quadcopter's license plate. It was a man with a history of voyeurism (a practice of gaining sexual pleasure from watching others when they are naked or engaged in sexual activity) and his girlfriend on suspicion of flying a drone spotted on area "patrols".
The said drone has recorded people in their bathroom or bedroom. One potential victim who spotted the drone outside his bathroom grabbed the tiny machine as it landed. He found several videos of people from its memory card and delivered those to the police. Good thing the citizen who got the drone has knowledge of how the drone works and is familiar with the machine. There were multiple video recordings according to the report including multiple stories high in apartment complexes.
The police posted on their social media page a grainy photo of a man (his face disguised by police) who was the suspect. They interrogate him if he is missing his quadcopter, if he suspects if the police are following him, if he is convicted of voyeurism before, and if he likes to turn himself in. After tracking the suspects from the photo from the license plate, the police nabbed the couple.
Now let's try to understand the Colorado Sex Crime Enhancement. Proving the crime of Invasion of Privacy for Sexual Gratification is more complex than it might first appear. The State has to prove beyond a reasonable doubt that Defendant's intent in the context of intrusion, was to receive sexual gratification. Even when the District Attorney may try to prove the enhanced charge, it is tough to prove based on the circumstances as it needs cooperation (honesty) from the defendant that his/her intent was sexual and not just mischievous.
The Drone and its role to Colorado Crime Of Eavesdropping 18-9-304
According to Michael Steinberg, a criminal defense attorney, he emphasized that using a drone to listen in on the conversations of others may also be charged as a criminal act. This crime is called eavesdropping. It is any person during a conversation or discussion commits the class 1 misdemeanor offense of eavesdropping of he/she has knowingly overhears or records (or attempts to do so) the conversation without the consent of at least one of the principal parties; intentionally overhears or records the conversation for the purpose of committing, aiding or abetting the commission of an unlawful act; knowingly uses or discloses (or attempts to do so) the content of the conversation while knowing or having reason to know that the information was obtained through eavesdropping; or knowingly aiding, authorizing, agreeing with, employing, permitting or intentionally conspiring with any person to violate the provisions of the eavesdropping statute. 18-9-304(2)
Is Tom Peeping Bailable?
Most of the time, individuals convicted of this crime will be sentenced to a misdemeanor offense. If the crime was committed for sexual gratification, then he/she may face additional sex offender registration penalties. If the offender already had a history of sex crimes ( like the example above) he/she will face felony charges and extensive prison time. Even if you believe you are only facing misdemeanor charges, this can impact your entire life. Because of this, it is important to fight back against these serious charges. You could end up on the sex offender registry which is a public record and anyone can access it and can ruin your life. In this case, you need help from your bail bonds agency. They can definitely assist you. You can post bail and in the meantime continue to do your daily activities to survive. The bail bond service is there to help you.
Final Thoughts
Regardless of whether it's intentional or unintentional peeping, and the other party feels his/her right to privacy has been violated, this is subject to complex investigation. If proven guilty under state law, the defendant must face his/her consequences. But before jumping to conclusions, the defendant has his right to bail in the meantime as he/she needs to do some errands. The defendant can avail of bail bonds which can temporarily make him free until further court hearings. On the other hand, nobody wants to be obscured by anybody, especially with their private life. May we live in peace and order and be safe from those criminals who were indeed Tom Peeping for their sexual gratification. Call the police right away if you witness such an unforgivable act. Those should not be let slip away and the abuser must be punished.